Posted by Thijs Triemstra | Filed under flash
Today Adobe released the first beta version (10.0.1.218) of the upcoming Flash Player 10, code named 'Astro'. You can download the new player for Mac OS X, Linux and Windows from Adobe Labs (make sure you uninstall older players first). There are quite a few enhancements but unfortunately the documentation of the new APIs isn't available yet (will be released at a later date through Adobe's Livedocs system) so I haven't been able to play with them in Actionscript yet.
Content created with the open source Flex 3 SDK is designed to work with Flash Player 9 (9.0.115.0 and higher) and will continue to function as expected with Flash Player 10. To build Flex content that takes advantage of the new features, you need a Flex SDK 3.0.x nightly build which can target the Flash Player 10 Beta.
Some of the highlights in the new Player:
Speex Audio Codec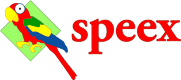 The open source Speex voice codec offers an alternative to the older, proprietary Nellymoser for audio that delivers the lowest-latency audio experience possible. Flash developers have requested an open source voice codec since the day Macromedia added Nellymoser to Flash ...